TUNE UP YOUR MID SIZE JOHNSON/EVINRUDE OUTBOARD,
THE MASTERTECH SHOWS YOU HOW.

PAGE TWO

go to (PAGE 1)
SAVE $2,453.00 ON YOUR NEXT MID SIZE OUTBOARD MOTOR!

Do you have an older mid size Evinrude or Johnson outboard from 9.5 thru 25 HP that needs a little help? or perhaps you would like to get a good small motor without spending from $3000.00 & up for a new model?
Then you have come to the right place. We will go through the complete procedure to do a major tune up on a small motor, in this case a 1958 Evinrude 10HP I was lucky enough to find in a neighborhood yard sale. The seller said it didn't run but I could see from the images provided that it was in pretty good condition. Turned out to be almost unused!
This particular model was built essentially unchanged from 1959 through 1963 and similar 7 1/2 thru 25 models manufactured up into the mid 80's.. You couldn't ask for better all round motors. Where do YOU get one? E-bay and other auction sites have motors up for sale all the time. Yard sales, flea markets, even your local dealer may be happy to sell you an older motor they don't think is worth repairing. Use good judgment, don't buy a motor that is worn out! Generally the nicer looking ones are in good shape.
These are the steps to follow to get this little jewel into perfect condition. All these parts will cost you just a little over $175.00. The entire project should only take you a Sunday afternoon, and will reward you with a motor that runs better than new.
HERE'S WHERE WE GET INTO RE-DOING THE WATER PUMP AND CARBURETOR
(click images for larger)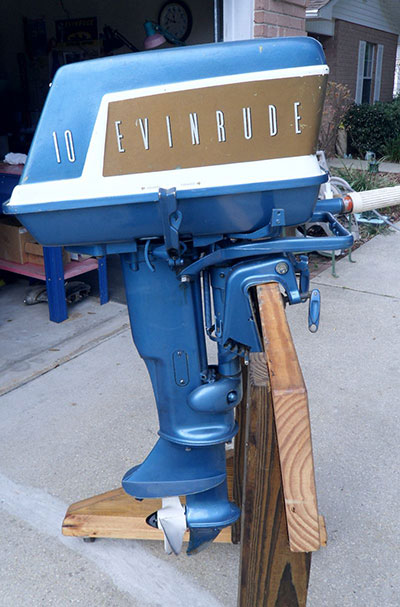 The motor as I found it. This is Evinrude's 50th anniversary model.
Generally the less wear and tear apparent, the less use it has seen.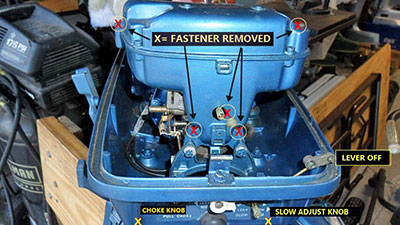 All old carburetors will need upgrading to alcohol resistant parts. To get started remove the fasteners and levers as shown above. Your motor may vary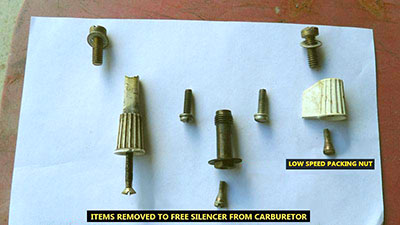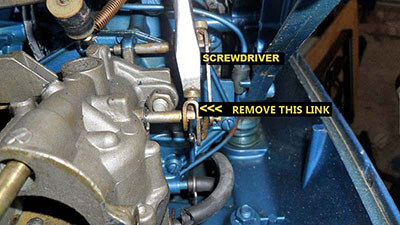 Loosen screw and slide lever off the carburetor butterfly shaft

Nut on each side holds carburetor on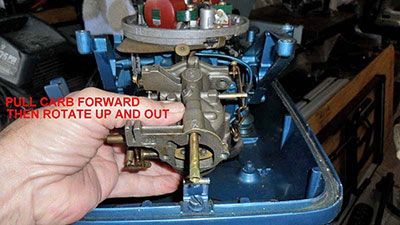 Remove complete assembly. You will have to take off the high speed knob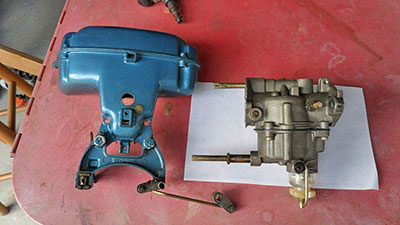 Here's a shot of the silencer (no, its' not a filter!) and carburetor off the motor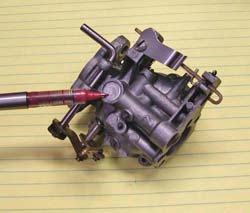 (3 HP carb shown)
Using a sharp tool, puncture and remove this calibration pocket cover so as to clean out anything that might be blocking the tiny holes underneath.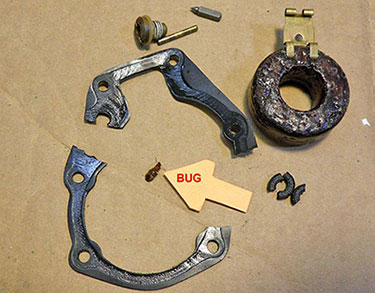 These components are being replaced, except for the bug found in the carb bowl!
Jet seal and bowl gasket so brittle they crack. Old metal needle and seat.
Cork float would soon shrivel from alcohol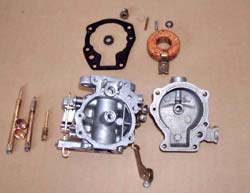 Basic single throat OMC carb apart



Reassembling carburetor - be sure that you have all the varnish out. Most outboard manufacturers sell "engine cleaner" or "engine tuner" which is intended for decarbonizing but also works very well as a carburetor cleaner. Immerse, wash with water and blow dry. Not caustic, you can clean your hands with it.
When the float needle and seat are correctly installed the float should be parallel to the body when inverted. Note the small spring on the needle goes over the float tang.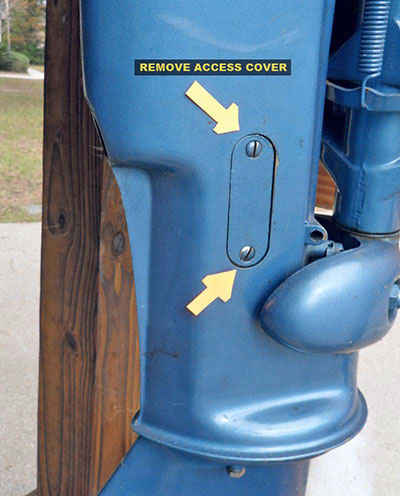 Ok, lets take a look at the water pump. 1st thing to do is uncover the shift rod coupler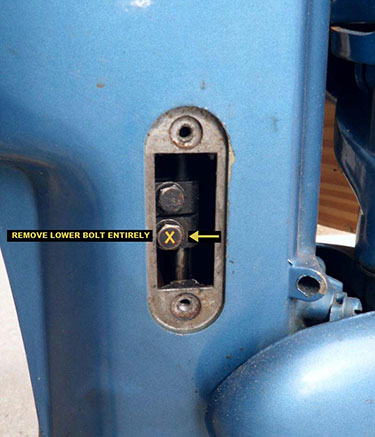 Bolt has to come all the way out.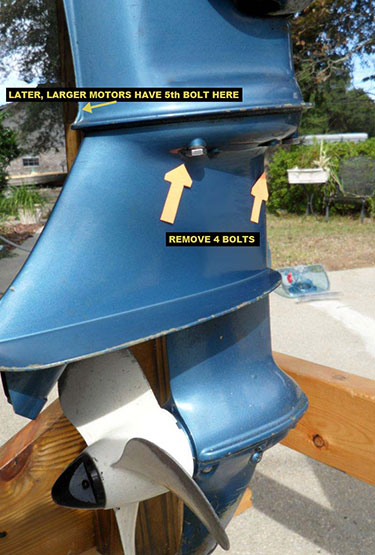 4 (or 5) bolts attach the gearcase to the midsection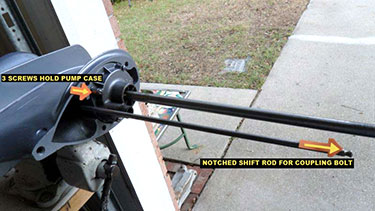 With the gearcase off you can now get to the water pump (25 HP unit shown)


This has an acceptable impeller but the housing is worn excessively from running thru sand in our shallow bays and bayous. As you can see it is really easy to get to and service the water pump!