01-09-2010 WELCOME to the unofficial Northwest Florida Antique Outboard Motor Club website! Hope you enjoy the fun.
Here are some of the folks and the motors collected up in the great Northwestern US.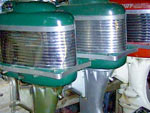 Howard Van Leuven had this nice pair of original shiny green Mark 50 Mercs. In the background you can see a nice MK55. Out of the photo is a 63 Merc 500 that is original/mint. Howard also had an impeccably restored yellow Jacket 14' runabout that he powered with these. This is vintage info, Howard was killed in an unfortunate accident while out jogging.





---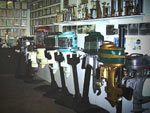 You just have to see this to believe it. The Williams family have been around all this since way back - - even as long as your striving webmaster! Dey got ALL da Mercs! This is only part of the show. Hurricane motor in the foreground was used to annihilate the B class record by Jack Leek when he was a Merc fan. He went on to head OMC's racing division in the heyday.
---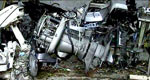 Here is my Evinrude " Lark " 40 right on the pile where I found it. This is the model with the full Monty - - DC generator, electric shift, hot water automatic choke! And, it's as new. Tossed away, how sad - -


---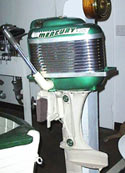 This immaculate Mark 30 Mercury was sold on an outfit, found to be too small for a good ski motor. And when the owner went back to his local dealer (the first megadealer in the entire universe) they informed him that it was practically worthless, now that it was a " used" motor. He went ahead & bought a Mark 55, just never got around to selling this old girl - -







---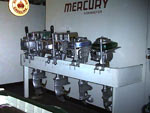 These four 4's are lurking in Dennis Johnson's collection. I call 'em the OMC hall of shame. The big motors being sold as government largess, the Zephyr 5HP is the most complex and silliest 5 HP ever built. Real waste and an example of engineers running wild. The light 4 was a good motor tho. And Dennis's restorations are impeccable!





---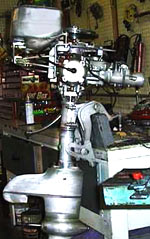 The Northwest guys are still into racing these old critters. Here's a modified P50 Johnson for classic C. This stuff is really fun to run, cheap & cheerful. As a retired OPC racer I can identify with that! It takes a big budget to go racing with new stuff today, and no appropriate monetary rewards.
---
READ ME!
DISCLAIMER



The information provided on these pages is correct to the best of my knowledge, however the MasterTech makes no warranty, express or implied, regarding the use of, results of, or liability created from, application of this data. This information is disseminated in good faith, however MasterTech assumes NO LIABILITY whatsoever in regard to this service. The information, software, products, and services published on this web site may include inaccuracies or typographical errors. Changes are periodically added to the information herein. Mastertech may make improvements to this site at any time. Parts ordered from this website may or may not be in dealer stock at the time of order. Thank you for reading.
All information on these pages © by the Mastertech in the year 2010