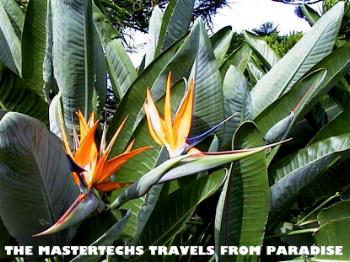 TOMAHAWK WISCONSIN
1999 AOMC NATIONAL MEET

Click on the small images to see a larger picture. Hope you're able to see all these in full color! The pics will open in a new window, just close it when your done. They will accumulate, you can browse them as a group.



MORE FUN WITH OLD IRON, 1999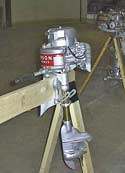 There were:


MOTORGOS!!


CAILLES!!


MERCURYS!!


ELTOS!! EVEN A CLINTON!!


It was the NATIONALS, 1999. The last nationals of the second millennium!
Outstanding motors, boats and bourse entertained all present. Those traveling to Tomahawk from the Northwest included Bob Abendroth, Jack Hughes, John Laird, Dwayne Niles, and Carl Peterson.

The rain that occurred off and on Thursday couldn't dampen the spirits of the crowd of happy AOMC'ers who rifled through the quarter mile of goodies brought to the meet. Friday it cleared up and I, the Hawaiian, got a SUNBURN!

The Merc fans were seen here drooling over a nice group of reasonably priced and clean Mercury motors. A number of these left with new owners, the Streamliner on the end of the back rack is now in a prominent Northwest Mercury collection. That Chris-Craft Commander is a real hybrid. Note the Champ Hotrod tower and gearcase with a Mercury clamp assembly.


The meet was sponsored by Mercury Marine. They brought a nice selection of new/old motors for the enjoyment of all who attended. Here are some pictures of assorted goodies.


"MR. ELTO" Sam Vance brought these quads and what a display they made. He ran the Speedliner outfit during the meet. The other photo is of a very rare Quad with 2 plugs per cylinder. I remember finding a set of dual ignition cylinders for one of these in South Bend when I was a kid and wonder where they are today. They were in the basement at W.E.Nelson's shop. Sam, did YOU get them??!!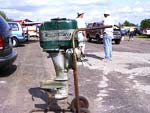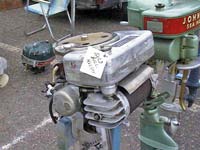 Here's some shots of the 2 motors I was fortunate enough to acquire at the meet. As I am awfully remote from the mainstream, this was a great opportunity for me to get a couple of tough ones. The ELTO is a high speed model. Both are notable in that they are complete and original needing only minor servicing to be usable.
Here's a shot down the midway. The only time it was this quiet was at 7:00 AM! Anything worthwhile was snapped up in a microsecond. 2 notable motors that were found - a 1929 High Speed Quad, complete but in a box, for - -$50.00. An extremely rare ELTO High Speed Special Speedster that Terry Kilcoyne correctly I.D.'d. Went right by me, I looked at it and I was clueless! He was ecstatic, he told me he's been looking for one for 20 years.

Ron Lietha, one of the many Tomahawk AOMC'ers that helped put on this terrific meet brought his unique Mercury MK25H prototype. This is a real motor, even signed by Charlie Strang! The 20H across from it has a short tiller like the one shown in the ad. His collection of Hot Rods was very nice as well. Thanks Ron! And thanks to all you other folks who brought those great motors and boats on display. Awesome!!

Speaking of displays here was the ultimate race boat spread. These folks had just about anything you could imagine here. That Quincy Looper 6 ran flawlessly as well.

The banquet held at the end of the meet on Saturday night was well attended and the enthusiasm for the award winners was long and loud. Food was good too!
Many thanks are again due to the sponsor, Mercury Marine for all the assistance and the great display of vintage and current Mercury and vintage Wizard outboard motors. For the spectacular awards they provided; I was the recipient of a plaque for long distance travel as well as a 50th anniversary shirt. We who attended hope to see them again soon!
And thanks to all you old motor nuts who attended, all had a great time. Hope I can make it to the 2002 nationals. See you there??
Authored by BILL KELLY, who enjoys being a member of the Antique Outboard Motor Club. Join us!
More old motor pages - -
READ ME! DISCLAIMER

The information provided on these pages is correct to the best of my knowledge, however the MasterTech makes no warranty,express or implied, regarding the use of, results of, or liability created from, application of this data. This information is disseminated in good faith, however MasterTech assumes NO LIABILITY whatsoever in regard to this service. The information, software, products, and services published on this web site may include inaccuracies or typographical errors. Changes are periodically added to the information herein. Mastertech may make improvements to this site at any time. Parts ordered from this website may or may not be in dealer stock at the time of order. Thank you for reading.

All information on these pages © by the Mastertech in the 3rd millennium
Page added 11/3/2001
MASTERTECH HOME EMAIL MASTERTECH MASTERTECH HOME