THE MASTERTECH'S ANTIQUE OUTBOARDS
HERE'S SOME SHOTS OF MY MOTORS
(Click on thumbnails for the full size picture)
Amazing what I have been able to acquire from my internet efforts. While in Hawaii I had to rely 100% on my website and auctions to find anything. I've paid too much for some, gotten a bargain on others, but half the fun's in the chase.
Here is your striving webmaster and Mastertech in Hawaii on Dec 15th 1998 with a couple of dinky motors; a 1937 ELTO Pal and a 1939 Cub.
Came back to the mainland in 2002. BIG mistake!!

Racin' fan? Here are 3 photos taken at the Sammammish Slough race around 1952. This was a river race from Lake Washington up to Lake Samammish. Then it was a beach start back! You could easily jig when you shoulda' jogged and wind up on the beach!
Slough1, Slough2, Slough3
Here's some pics of diamonds in the rough, some of the "before" shots of motors I have seen or acquired that are as found.

1951 WIZARD WG-4 5 HP

1930 ELTO HI SPEED SPEEDSTER

1949 MERCURY COMET 3 HP

Early 1955 MARK 55 with sandcast block. This motor is almost new, and was a nice find. Very rare as a longshaft, Too bad it wasn't me who found it.
---
Another KF-9 (as received, above left) this one is the 22nd one off the line, I know of none earlier. I restored this one while in Hawaii. See this project in its entirety HERE. A pic of the completed now red motor is shown above right.
---
Here's the one that got away.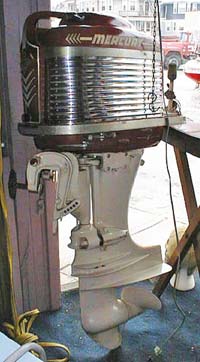 You all have one of these; here's my sad story. This motor was discovered new in the box, in a barn in New York. The finder emailed to my BBS rather than direct to me, I am sometimes slothful in updating BBS, especially in the middle of summer. Soooo-
By the time I found the message, got this image and replied that I want it, how much is it, the cat was out of the bag. Another collector was coming to see it, my entreaties went unfulfilled and of course the other collector bought it for hundreds less than I would have paid! If that lucky soul is you, enjoy!
---
Some of the better units I have - -

1923 MODEL "A"

This is the "before" picture of the motor that won the "Best Restoration" award at the 2010 SUWANNEE RIVER AOMC MEET

And the tank, as found

The winning restoration! (front)





The winning restoration! (rear)

WIZARD WK-7





A couple of Racing Mercs
---
---
Please review our Warranty, Returns & Refunds policies before you place an order.
DISCLAIMER
The information provided on these pages is correct to the best of my knowledge, however the MasterTech makes no warranty, express or implied, regarding the use of, results of, or liability created from, application of this data. This information is disseminated in good faith, however MasterTech assumes NO LIABILITY whatsoever in regard to this service. The information, software, products, and services published on this web site may include inaccuracies or typographical errors. Changes are periodically added to the information herein. Mastertech may make improvements to this site at any time. Parts ordered from this website may or may not be in dealer stock at the time of order. Thank you for reading.