THE MASTERTECH'S ANTIQUE OUTBOARD ADVENTURES PAGE 4
WHAT WE HAVE BEEN UP TO IN 2012.
(Click on thumbnails for the full size picture)
Ol' Bill got bit (again) by the boat racing bug. After all I'm only 72 now (edit: in 2012) so I think I can still compete. Picked D MOD class, uses a modifed Mercury "Classic 50" 44 cubic inch 4 cylinder.
These motors were built in many similar configurations from 1948 thru 1986 or so. This class of small race boat could be compared to the Nationwide series in NASCAR. These little boats can see speeds in the mid 70's or better and turn like they are on a rail.
Thought you might enjoy a pictorial of the trip to the 2012 MOD nationals at Rainbow City Alabama.
| | |
| --- | --- |
| | Here is your striving Mastertech's creation ready to take a trip to the NATIONALS! |
2012 WE HEADED NORTH TO THE MOD NATIONALS.
THE SITE AT RAINBOW CITY ALABAMA IS IDEAL (MOST OF THE TIME).
Here's some pics of some of the rigs and me under way. It was a humbling experience!
THE D MOD(IFIED) ROOKIE AT THE RACES!

LOOKING ONE WAY IN THE PITS.

CUTIE PUP
HAD TO SHARE THIS!

BURNING THE MIDNITE OIL, THE MOTOR'S NEAR DONE.

A COMPETITOR'S VIEW!


READY TO FIRE IT OFF
ON THE BOAT
---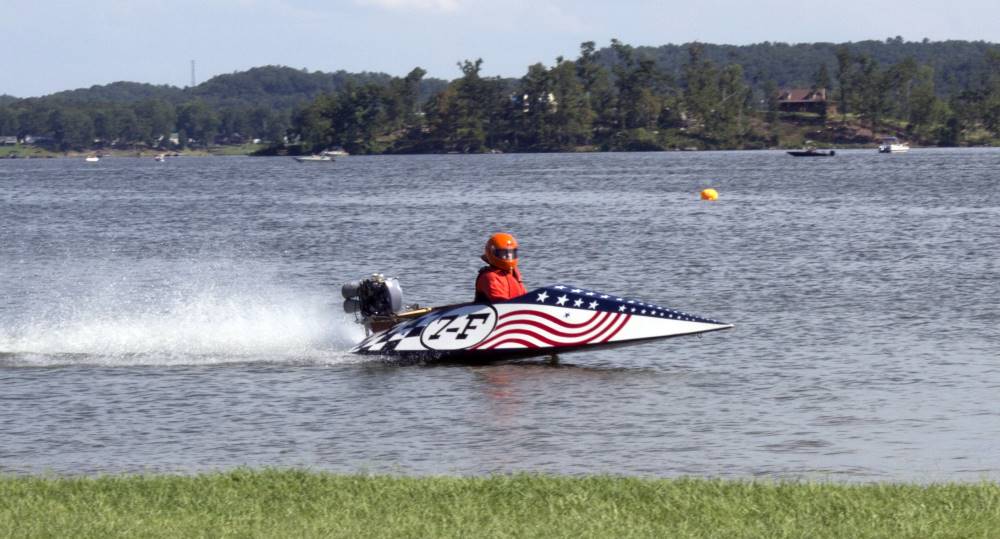 HAVEN'T GOT A GOOD CLOSEUP OF ME UNDERWAY
WE LEARNED A LOT AT THIS EVENT, SO MUCH FOR THE "OLD DAYS".
LOOKING FORWARD TO IMPROVED RESULTS IN 2013!

MOTORS RESTORED FOR OTHERS

MERCURY MARK 15A BEFORE


LOOKING BETTER NOW
THE FINISH IS "HOLIDAY RED"



REFINISHING. THE MARK 30 GREEN IS ALKYD ENAMEL
WE USED BASE COAT/CLEAR COAT ON THE MK15A
---

RIGHT DOWN TO THE LAST NUT & BOLT
MARK 30

MARK 30 JUST LIKE NEW

MERCURY MARK 30 COMPLETED

JUST IN CASE YOU THOUGHT ALL I DO IS FIX UP OLD MERCS - -


MY 1937 JOHNSON PR-65 RACER. HISTORY OF THIS MOTOR IS UNKNOWN, PREVIOUSLY IN A SOUTH GEORGIA COLLECTION

THE 1937 JOHNSON PR-65. ORIGINAL, SCARCE JOHNSON GEARCASE.
---

UNUSUAL 1960 WIZARD 12 HP, BUILT BY SCOTT McCULLOUGH

HEY - I'M A GREAT GRANDPA!.
THIS IS HUNTER, 2 YEARS OLD


OF COURSE WHEN YOU BUILD A MOTOR, YOU NEED A BOAT TO GO WITH!
---
Here's the best part of the hobby.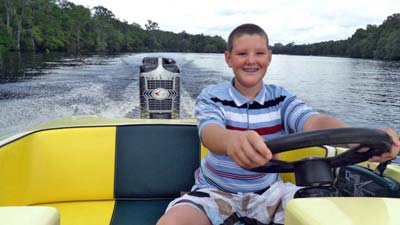 Take a youngster boating today. He will remember it all his life.
Here's HAVEN (then 13), Running the MARK 75 at Suwannee meet.
---
The Mastertech's Antique Outboard Adventures
Page 5