WANTED, DEAD or ALIVE!
THE ANSWER TO WHERE TO SEND THAT OLD JUNK!
I am actively attempting to replace a number of the motors I let go a few years back - - as well as accumulating some units for restoration and resale to collectors. So if you have an old or unusual outboard around your place, you might want to get in touch with me. The following are some, but not all of my areas of interest!
All Mercury outboards manufactured before 1959; the "K" and "MK" series. Like KF-9, KG-9, MARK40
Early merc inline 6's like MK75, 78, MERC700, 800's thru 1963
Western Auto "Wizard" models WF7,WG7,WH7. WK7,WJ7,WM7. WM7A. WN7,7A. WA25.
Caille outboards, all models.
Evinrude opposed twins, 1930-38, all HP's.
Johnson model KR, SR, PR, VR racemotors.
Johnson model S, P, V, 45 to 70 service models.
Lockwood outboards. All models.
Any unusual or off-brand you may come across.
Now here's the deal. These things aren't worth the US mint! But I will pay a fair price for them based on condition. Remember, collectors, that time is money. A motor that needs to be mechanically and aesthetically restored is NOT worth big bucks as is! But it is worth saving. I will spend up to a couple hundred hours on the average motor to bring it back to mint condition. Then it has value. 'Til then its just another old motor!!
Here's some images of a few motors I'm lookin' for - - have you seen them?
| | | |
| --- | --- | --- |
| F-75 | HA-10 | KR (RACING) |
| | | |
| | | |
| OA-55 | SR-PR (RACING) | V-65-70 |


SOME RESTORED EXAMPLES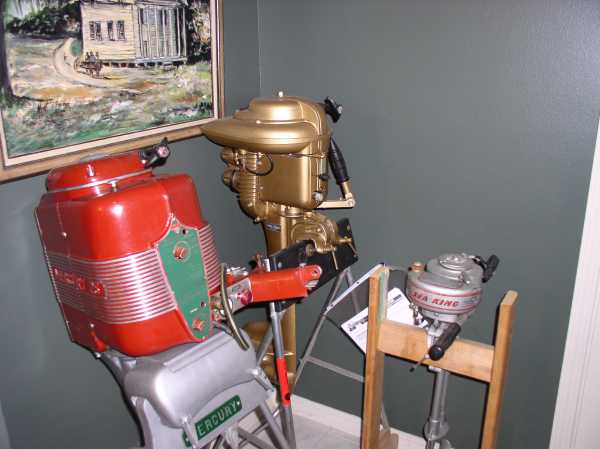 ---
Please review our Warranty, Returns & Refunds policies before you place an order.
DISCLAIMER
The information provided on these pages is correct to the best of my knowledge, however the MasterTech makes no warranty, express or implied, regarding the use of, results of, or liability created from, application of this data. This information is disseminated in good faith, however MasterTech assumes NO LIABILITY whatsoever in regard to this service. The information, software, products, and services published on this web site may include inaccuracies or typographical errors. Changes are periodically added to the information herein. Mastertech may make improvements to this site at any time. Parts ordered from this website may or may not be in dealer stock at the time of order. Thank you for reading.