WE RACED, WE WON! (SOME !)
Thought you all might enjoy some photos of some outboard racing equipment your striving webmaster and tech support guru created and competed with in local and national events. These shots are from my OPC (Outboard Performance Craft) racing days. Given time, I will also add more of these and some really ancient pics of stock and modified stuff from the 50's and 60s!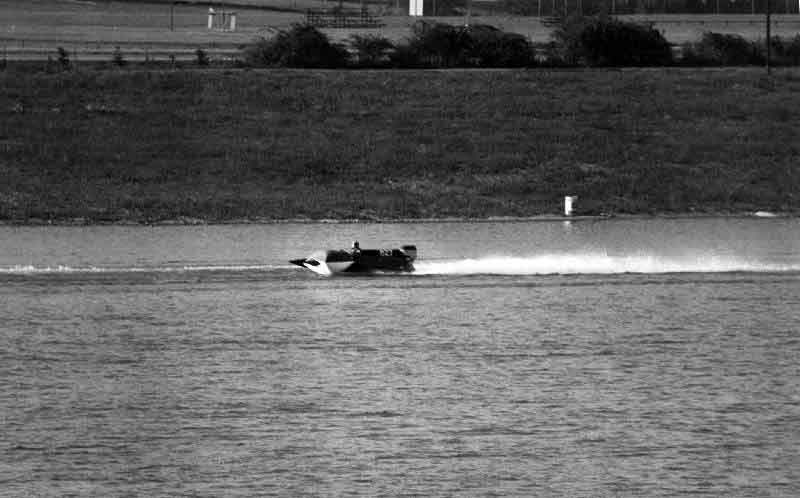 That shot on the left - - I think it's the best picture of one of my boats, but it's not me driving. Here's a LARGER SHOT
My friend Burt Fraley purchased a boat from me for SJ and decided to set it up as a "kneeler". We were probably the only team to run tunnels like this, a holdover from our "stock" division days. One morning out testing, the lake was glass, the fog lifting, and here comes Burt and the UJ out of the fog right up atcha' and running.
The rest of these pics are live links to a larger shot, you can just close that window when you're through.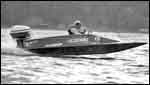 Here's my first tunnel with a 1967 Evinrude X-115. Bought this old thing as a wreck from folks who had used it for a plug to build glass copies. I removed all the innards, even the frames and transom, rebuilt it and proceeded to prune the glass copies!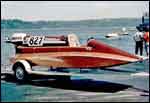 This was my favorite boat of all. I could fill pages with race tales. The motor is a 1970 Evinrude model KC13R, soon superseded by the KR15M "super-strangler" and Johnson equivalent "stinger 2". I was able to hang right with most of those guys and I was 25 HP short!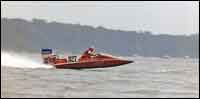 1975 Sport E Marathon Nationals in Eufaula, Alabama. Motor started for the milling period, lined up for dead engine off the beach marathon start, hit the switch, nothing. The starter thru-bolts had failed in tension and the brush base fell off. I was disgruntled and was walking the boat back to the pits when the Factory team guys came and helped by lifting the boat, starting it with the rip cord and slamming the cover on before I left. I was 2 and a half big laps behind, but made up all but the last 100 yards. Another lap and I would've won. This was the ONLY time I ever had a mechanical breakdown in all my OPC days. Mighta' known it would be the nationals!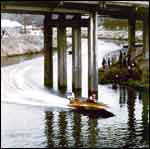 The Sammammish Slough race is one of the oldest races in the Northwest. Wild and wooly, you were apt to see as many boats out on the bank as in the river. The toughest corner was at the Bothell bridge, sharp decreasing radius S after a straight-away, Lots of guys didn't make it. The kid was #1 this weekend!