THE MASTERTECH'S ANTIQUE OUTBOARDS PAGE 3
WHAT WE HAVE BEEN UP TO IN 2011.
(Click on thumbnails for the full size picture)
Ol' Bill got bit (again) by the boat racing bug. After all I'm only 71 so I can still compete. Picked D MOD class, uses a modifed Mercury "Classic 50" 44 cubic inch 4 cylinder.
These motors were built in many similar configurations from 1948 thru 1986 or so.
Thought you might enjoy a pictorial of the motors in work.
Here is your striving Mastertech and webmaster Tom at "Roar N Soar" land, sea and air meet in Polk City Florida.
March of 2011. http://www.fantasyofflight.com/
2011 ATTENDED AOMCI MEET: AT MOUNT DORA.
IN OCTOBER WE TRAILERED THE UNTESTED D MOD UP TO TABOR CITY NORTH CAROLINA.
Here's some pics of some of the motor and boat under construction, click them for larger views:

$83.00 ON EBAY
WHAT THE HECK IS THIS????


LOOKING BETTER NOW
"TURNED OUT TO BE A FULL "QUINCY"
PAUL CHRISTNER LOOKED IT OVER AND AGREED ITS THE OLDEST HES SEEN!

ASSEMBLING THE POWERHEAD
---

1954 BLOCK QUINCY/MERC
FRONT VIEW

QUINCY/MERC PORT SIDE

QUINCY/MERC STARBOARD SIDE
---

COOL SPRAYSHIELD

PREVIEW OF THE BOAT BUILD.
HERES THE FINISHED BOAT


OF COURSE WHEN YOU BUILD A MOTOR, YOU NEED A BOAT TO GO WITH!
---
Here's the best part of the hobby.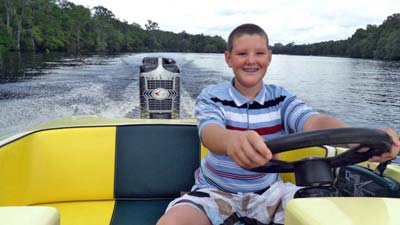 Take a youngster boating today. He will remember it all his life.
Here's HAVEN (then 13), Running the MARK 75 at Suwannee meet.
---
THE D MOD(IFIED) 44 CID MERC!

CAN THIS PIECE OF GREASY JUNK BE SAVED??

ASSEMBLY TIME
MOLY COATED PISTONS

BURNING THE MIDNITE OIL, THE MOTOR'S NEAR DONE.

A COMPETITORS VIEW!


READY TO FIRE IT OFF
ON THE BOAT
---



FINISHED PRODUCT IN THE WATER AT TABOR CITY NC IN OCTOBER 2011
MANAGED A 3RD PLACE 1ST TIME OUT!
CREATING FROM CONCEPTION TO COMPLETION IS VERY REWARDING.