Click on the small images next to the text to see a larger picture.
Hope you're able to see all these in full color!
The pics will open in a new window, just close it when you're done.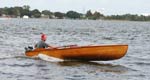 It was the INTERNATIONALS, 2003.
Outstanding motors, boats on display entertained all present. Many enjoyable activities occupied everyone all weekend.