THE MASTERTECH'S ANTIQUE OUTBOARDS PAGE 2
WHAT WE WERE UP TO IN 2010
(Click on thumbnails for the full size picture)
Amazing what I have been able to acquire from my internet efforts. While in Hawaii I had to rely 100% on my website and auctions to find anything.
I've paid too much for some, gotten a bargain on others, but half the fun's in the chase. Now that I am on the mainland I can get to meets and restore stuff.
Keep your eye out, more will be added soon.

WHAT WE HAVE BEEN UP TO IN 2011
Here is your striving webmaster and Mastertech in Hawaii on Dec 15th 1998 with a couple of dinky motors; a 1937 ELTO Pal and a 1939 Cub.
Came back to the mainland in 2002. BIG mistake!!
2010 ATTENDED AOMCI MEETS: AT LAKE SHIPP , SUWANNEE RIVER AND MOUNT DORA.
ALSO ANTIQUE RACE BOAT MEET AT ROAR N' SOAR, POLK CITY, ALL IN FLORIDA.
Here's some pics of some of the latest restorations, click them for larger views:

1938 EVINRUDE "C" SERVICE
RACING MOTOR FRONT VIEW


THIS MOTOR WON 1ST PLACE
"BEST RESTORATION"
AT 2010 SUWANNEE RIVER AOMC MEET

THREE QUARTER VIEW
---

1930 JOHNSON SR-50 RACING
FRONT VIEW

SR50 PORT SIDE

REAR VIEW, SR-50
---

1939 ELTO FLEETWIN SERIAL #00017

SOME COMPLETED MOTORS IN OUR OFFICE. L-R;
KF-9, KG-9H, WK-7, WD4S, HA-10, KG-7H, KE4A, SEA KING 1HP


CURRENTLY BUILDING A "D" MOD 44 MERC, QUINCY MOD MARK 50 AND A JOHNSON VR. STAY TUNED!
---
Here's the best part of the hobby.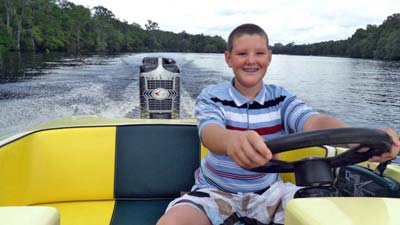 Take a youngster boating today. He will remember it all his life.
Here's HAVEN, Running the MARK 75 at Suwannee meet.
---
MORE STUFF!

1954 MERCURY 40H RACING

MARK 40H
MARK 75 60 HP SIX

1955 MERC MARK 55 ON A "Q" LENGTH QUICKSILVER

WIZARD WK-7
OR IS IT?

1946 MERC KE-3
TROLLER
---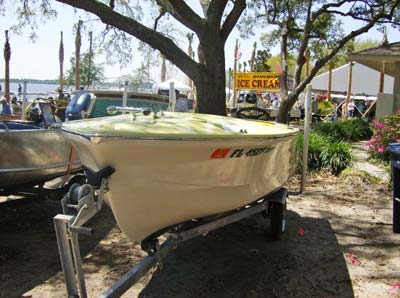 P-14 WITH MARK 75 ON DISPLAY AT MOUNT DORA
---
Please review our Warranty, Returns & Refunds policies before you place an order.
DISCLAIMER
The information provided on these pages is correct to the best of my knowledge, however the MasterTech makes no warranty, express or implied, regarding the use of, results of, or liability created from, application of this data. This information is disseminated in good faith, however MasterTech assumes NO LIABILITY whatsoever in regard to this service. The information, software, products, and services published on this web site may include inaccuracies or typographical errors. Changes are periodically added to the information herein. Mastertech may make improvements to this site at any time. Parts ordered from this website may or may not be in dealer stock at the time of order. Thank you for reading.