Click on the SMALL IMAGES next to the text to see a LARGER PICTURE. The pics will open in a new window, just close it when you're done.

BOUGHT A 15 FOOT PRO-CRAFT BASS BOAT ON TRAILER WITH MERC 200, 26 CHOPPER PROP AND ALL FOR $375.00 AND A 68 EVINRUDE 55 TUNE UP. SUCH A DEAL, I THOUGHT. THEY SAID " THE MOTORS NO GOOD, IT WON'T RUN ". WELL, OLD BILL SHOULD BE ABLE TO EASILY REMEDY THAT - -

I THOUGHT, JUST ALL NEW IGNITION PARTS (STATOR, TRIGGER, POWERPACKS) AND CARB KITS, SHE'LL RUN LIKE NEW. TOOK THE CARBS DOWN AND FOUND SOMEONE HAD MONKEYED WITH THE THROTTLE PLATES AND THEY WERE ALL IN THE WRONG POSITION, SOME UPSIDE DOWN AS THE EDGES ARE CHAMFERED TO FIT THE THROTTLE BORES. THE FLOAT VALVES WERE ALSO INSTALLED INCORRECTLY, SO RESET THEM. CRANKS BUT WON'T START. WITH A SHOT OF STARTER FLUID WOULD RUN, BUT VERY RAGGED.
OK, MAYBE THE CARBURETORS AND THE CHOKE BUTTERFLYS ARE JUST TOO NASTY TO WORK PROPERLY. SO I OBTAINED A SET OF CARBS FROM A NEWER MOTOR WITH A PRIMER CIRCUIT AND REMOVED THE MONKEY-MOTION CHOKE PLATES AND ASSOCIATED PARTS. NOPE, STILL NOTHIN - -
OH YEAH, IN THE PROCESS, THE LOWER RIGHT CORNER OF THE EXHAUST WATER JACKET COVER CRUMBLED AWAY FROM CORROSION. OBSOLETE, BUT LUCKILY I FOUND A NEW OLD STOCK ONE RIGHT THERE IN NAVARRE AT THE LOCAL MERC DEALER'S.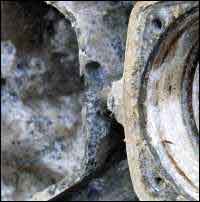 SO SEEING THE AMOUNT OF CORROSION THERE, DECIDED TO PULL THE HEADS AND FOUND THE EDGES OF SEVERAL CYLINDERS CORRODED NEARLY TO THE BORE. MESSY. WELL, HAVING HAD SOME SUCCESS IN THE PAST WITH EPOXY I PATCHED ALL THIS UP AND REINSTALLED EVERYTHING. NOPE - STILL NO GO. OK, IT'S TEARDOWN TIME, I'LL GET TO THE BOTTOM OF THIS - -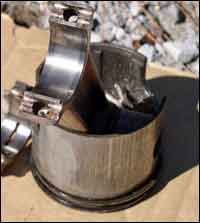 TEARDOWN REVEALED A REAL MESS. GOOD THING I DIDN'T GET IT TO RUN AS THE INTERNALS WERE A REAL MESS. 1ST OFF, THE BLOCK WAS EATEN THRU IN SEVERAL PLACES. CRANKSHAFT SHOT. LOWER SEALS BASICALLY NON-EXISTANT ALLOWING WATER TO RECIRCULATE AND EAT UP THE TOP MAIN. NUMBER 6 ROD AND CRANKPIN IN SIMILAR CONDITION



THERE ARE SOME PICTURES OF DEFECTS ABOVE. YOU CAN SEE THE ROLLER BEARING MARKS ON THE TOP MAIN JOURNAL. THIS TYPE OF WATERMARKING AND PITTING FOUND ANYWHERE ON AN OUTBOARD WILL RENDER THE PART UNUSEABLE. THE CONNECTING ROD AND PISTON ARE ALSO WORN BEYOND USE. SEE THE ROUGHNESS ON THE BEARING SURFACE OF THE ROD.
SO THE SEARCH BEGAN FOR SOME REPLACEMENT PARTS. FOUND THEM - A CRANKSHAFT WAS SENT BUT FURTHER EXAMINATION REVEALED THAT ONE CENTERMAIN SURFACE WAS FAULTY. THE VENDOR THEN SENT ME ANOTHER THAT WAS 100% BETTER. GOOD FORTUNE LANDED A BLOCK FOR $100.00 THAT WAS REPUTED TO NEED ONE SLEEVE, BUT IT HAD ONLY A VERY MINOR SCRATCH AND I DEEMED IT JUST FINE FOR ME. THE EXHAUST COVER PLATE WAS OF DIFFERENT CONFIGURATION SO I HAD TO REPLACE THAT AGAIN AS WELL AS THE INNER BAFFLE.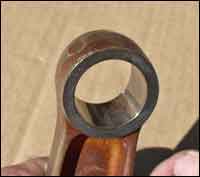 LOOK AT THE WRIST PIN BEARING SURFACE ON THIS USED ROD I WAS SENT. NO GOOD. IT HAS CHATTERMARKS FROM WEAR, EVENTUALLY THIS WILL FAIL. BE SURE ALL MACHINED SURFACES ON EVERYTHING SHOW SMOOTH SURFACES. IDEALLY YOU WILL STILL SEE FAINT LINES WHERE THESE SURFACES WERE FINISH GROUND.
ALL PARTS SHOULD BE THOROUGHLY CLEANED AND LAID OUT SO AS TO ENSURE PROPER REASSEMBLY ORDER. LOOP CHARGED "V" MOTORS HAVE PORT AND STARBOARD PISTONS SO BE SURE THAT YOU GET THEM IN THE PROPER BANK AND WITH THE "TOP" STAMP UP! BE CAREFUL TO KEEP THE ROD CAPS WITH THE RODS. THEY ARE "BREAK FIT" THAT IS, THE ROD IS FINISH GROUND AND THAN ACTUALLY BROKEN IN TWO SO AS TO HAVE A PERFECT FIT BETWEEN THE 2 HALVES. IT IS IMPORTANT AS YOU REASSEMBLE TO LIGHTLY TIGHTEN THE CAPS, THEN RUN A PENCIL OR YOUR FINGERNAIL ALONG THE CHAMFERED EDGES TO BE SURE THEY ARE IN PERFECT ALIGNMENT.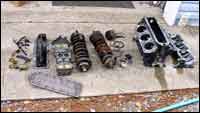 SO FINALLY AFTER REPLACING ALL THE PARTS SHOWN HERE WE GOT A RUNNER. STARTED RIGHT UP. SELLER WAS RIGHT, THAT THING WAS JUST "WORE OUT!". THE FINAL PICTURE SHOWS MOST OF THE STUFF THAT WAS REPLACED. I HOPE YOUR MERC'S IN BETTER CONDITION. ACTUALLY THIS MOTOR WAS REAL EASY TO OVERHAUL, GIVEN BASICALLY GOOD PARTS IT COULD BE DONE
Authored by BILL KELLY, who enjoys being a member of the Antique Outboard Motor Club. Join us!