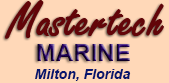 Wondering
"Where-'n-'Ell"
to get great parts for your outboard?
Right Here!

A Fun Old Porcelain Sign and Ancient Tools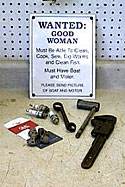 Meet the MasterTech!
(click picture)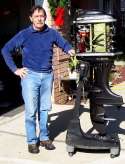 If your Mfgr. says:
T
hat motor's 7 years old!!

P
art is no longer available.

W
e lose $$ on service!

EPA
made me do it!

P
art's at central warehouse, you'll get it next month.

W
e don't make parts for those.

W
e only do warranty work.

O
ur techs only fix late models.

N
o clue what's wrong! So we'll work time & material.
Baloney!!
Contact
the Mastertech!

,



MEET THE MASTERTECH


SO WHO IS THIS "MASTERTECH" GUY, ANYWAY?

Me? My name is Bill Kelly, I am the MASTERTECH - - In 2002 we decided to relocate from Hawaii, on the "Big Island", Konaside to the Florida panhandle. I was able to purchase a nice place on the East Bay in Navarre (since relocated a bit more north to Milton, Florida). I grew up in LaPorte, Indiana, on Pine lake. Been an outboard nut since my grandpa gave me an old Johnson 2 1/2 HP motor when I was 8 years old. Ran it on a Star craft "tin" 12' boat. Star boat and tank in Elkhart, Indiana built more stock watering tanks than boats in those days! One thing led to another, here I am.

I have a lifetime of experience. Over 53 years as A dealer, technician, and race driver. One of the first to be certified as a
"MASTER TECHnician"
by OMC, 1977. Our racing team won many national championships, set competition records, achieved numerous "US-1" high points in class in Outboard Performance Craft (OPC) competition.
"We beat the Factory teams"!

I also enjoy collecting and restoring "antique" outboards and associated boats and gear. During the off-season you can usually find me in the back of the shop resurrecting a classic.

I have spent my business life becoming proficient at what I do, and I can now share this knowledge with you through the wonder of the web. So, if you want to fix your motor, get out front, or just get off the beach:

CONTACT ME TODAY!

I can help.


MOST UNFORTUNATELY MY ABLE ASSISTANT TOM BILLINGS PASSED AWAY UNEXPECTEDLY ON DEC 11TH, PLEASE KEEP HIM IN YOUR PRAYERS. CONSEQUENTLY I MAY BE A LITTLE SLOW TO RESPOND TO YOUR REQUESTS.





---

JIM WRENN writes:

"As you may recall, within the last 2 weeks, you responded to my problem with my 1995 Johnson 40 HP and your diagnosis was right on. I effected the repair for a mere $32.00. I'm sure this would have been $300.00 at my local dealership. PS I also purchased an OMC service manual from you, thanks! Jim Wrenn"

We pay the freight out in USA on all orders over $100.00. Orders less than this amount will have a shipping and handling charge of $8.75 added. Some bulky and heavy items will incur additional charges. You will be notified beforehand if this is the case. Remember, all orders receive free technical support from the MasterTech!

---

Please review our Warranty, Returns & Refunds policies before you place an order.

DISCLAIMER

The information provided on these pages is correct to the best of my knowledge, however the MasterTech makes no warranty, express or implied, regarding the use of, results of, or liability created from, application of this data. This information is disseminated in good faith, however MasterTech assumes NO LIABILITY whatsoever in regard to this service. The information, software, products, and services published on this web site may include inaccuracies or typographical errors. Changes are periodically added to the information herein. Mastertech may make improvements to this site at any time. Parts ordered from this website may or may not be in dealer stock at the time of order. Thank you for reading.