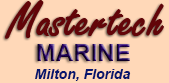 Wondering
"Where-'n-'Ell"
to get great parts for your outboard?
Right Here!

A Fun Old Porcelain Sign and Ancient Tools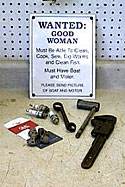 Meet the MasterTech!
(click picture)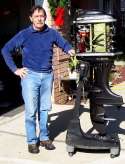 If your Mfgr. says:
T
hat motor's 7 years old!!

P
art is no longer available.

W
e lose $$ on service!

EPA
made me do it!

P
art's at central warehouse, you'll get it next month.

W
e don't make parts for those.

W
e only do warranty work.

O
ur techs only fix late models.

N
o clue what's wrong! So we'll work time & material.
Baloney!!
Contact
the Mastertech!

,

INBOARD/STERN DRIVE

EXHAUST MANIFOLD TIPS

Exhaust manifolds can cause all sorts of grief to your Mercruiser, OMC, or Volvo if not maintained properly. I advise the installation of a "fresh water" cooling system on your outfit where available. With that, 98% of cooling system problems can be avoided. A fresh water cooling system is set up similar to the radiator on your automobile. The engine coolant is passed thru a heat exchanger that is supplied with outside raw water by the water pump in your outdrive unit. The engine coolant uses the same antifreeze as your automobile so there is no problem with freezing and cracked components in colder climates.
BUT - the RISERS are still raw water cooled as the raw water is dumped thru them to cool the exhaust. They MUST be drained for winter (and the manifolds also if raw-water cooled). They can also become filled with corrosion scale over time and restrict the water flow through your motor. If your motor is running hot this is the FIRST place to check after the thermostat & impeller. Engine circulating pumps are sometimes a concern, but because they have stainless vanes, they usually don't become a problem as far as overheating although they WILL eventually wear out the internal seal, just like in a car, which will be evident by the water dripping from the pump (this will cause failure and overheating).

If the risers are not corroded through, you may clean them as follows:
Obtain a gallon of Muriatic acid and a large box of baking soda. Fill an adequate size container with enough water to dilute the acid to one quarter strength and immerse the riser in the solution.

WARNING!! Only do this OUTSIDE and in a well-ventilated area. Fumes are corrosive.
This acid is very corrosive and WILL damage anything else it touches including YOU! Do this at your own risk.

Leave the riser in the solution until it stops bubbling. You may add more acid as the process continues. Then neutralize the solution (and the riser) with the baking soda before you dispose of it.
You may be able to further clear the small holes in the exit part of the riser with a large screwdriver or similar.

It's also possible to have a radiator shop "tank" your risers & manifolds to get rid of scale & corrosion if they're not too far gone. This may give you a few more years' use also. This is a safer, though more expensive, way to clean up your manifolds & risers.


We pay the freight out in USA on all orders over $100.00. Orders less than this amount will have a shipping and handling charge of $8.75 added. Some bulky and heavy items will incur additional charges. You will be notified beforehand if this is the case. Remember, all orders receive free technical support from the MasterTech!

---

Please review our Warranty, Returns & Refunds policies before you place an order.

DISCLAIMER

The information provided on these pages is correct to the best of my knowledge, however the MasterTech makes no warranty, express or implied, regarding the use of, results of, or liability created from, application of this data. This information is disseminated in good faith, however MasterTech assumes NO LIABILITY whatsoever in regard to this service. The information, software, products, and services published on this web site may include inaccuracies or typographical errors. Changes are periodically added to the information herein. Mastertech may make improvements to this site at any time. Parts ordered from this website may or may not be in dealer stock at the time of order. Thank you for reading.