MASTERTECH'S
MARINE ENGINE PARTS CENTER
WE HAVE ANSWERS TO YOUR PARTS PROBLEMS !

Composite Performance Reeds
FOR
Outboard Motors

2 & 3 Cylinder
V4 thru V8 are HERE
These kits contain all the reed parts need to replace the reeds in your motor.
You may need new reed block gaskets, which we can supply on request, depending on condition of the originals. Gasket price and quantity required vary depending on the motor in question.

Outboard manufacturers typically have the reeds riveted in placed, and replacements are usually sold only as (expensive) complete reed blocks. These reeds, besides being much less expensive, offer performance gains when accelerating from a stop. The illustration below shows the typical 2-stage design of Boyesen reeds (this drawing is actually typical of Johnson-Evinrude V6 Loop-charged motors) The kit replaces ALL reeds on a motor..

Look for the manufacturer and horsepower on the table below to find your application.
Then, just click the button next to it to add the kit you need to the shopping cart.
BE SURE and submit THE MODEL and SERIAL NUMBER information in the order form
so we can verify the application to your specific motor .
In most cases, due to space, the reed set for 1 reed block is shown, but
the kit
always includes all necessary reeds
for the entire powerhead. Gaskets are
not included
.

9.9, 15 HP

Through 2007
B122

$30.00

18 Jet

20 HP

25 2-cyl

28 HP

35 2-cyl

1995-98

1981-99

1979-98

1986-96

1976-94
B128

88.00

25 HP 3-cyl

35 HP 3-cyl


1996-99

1996-99

B132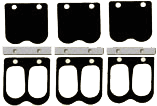 $45.00

28 Jet

35 Jet

40 HP Carb

45 HP

48 HP

50 HP 2-cyl


50 Comm.

60 HP 2-cyl



Thru 1994

1995-97

Thru 1999

Thru 1997

Thru 1996

1971-75
1981-05

Thru 2001

1980-85


B124

$70.00

50 HP 3-cyl

55 HP 3-cyl

60 HP 3-cyl


65 HP 3-cyl


70 HP

75 HP


1995-98

1968-69

1970-71
1986-99

1972-73
1995-99

1974-99

1975-Up

B133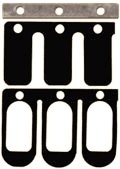 $76.00
---
Please review our Warranty, Returns & Refunds policies before you place an order.
DISCLAIMER
The information provided on these pages is correct to the best of my knowledge, however the MasterTech makes no warranty, express or implied, regarding the use of, results of, or liability created from, application of this data. This information is disseminated in good faith, however MasterTech assumes NO LIABILITY whatsoever in regard to this service. The information, software, products, and services published on this web site may include inaccuracies or typographical errors. Changes are periodically added to the information herein. Mastertech may make improvements to this site at any time. Parts ordered from this website may or may not be in dealer stock at the time of order. Thank you for reading.