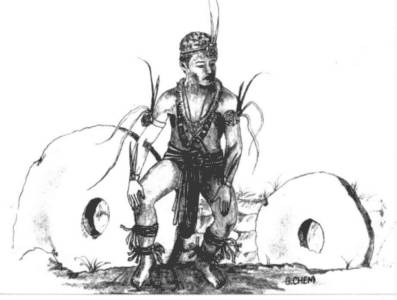 YAPPESE WARRIOR WITH STONE MONEY
MAXWELLS NUMISMATICS Visits Yap!
A while ago,when I was visiting A friend on Guam, I had occasion to make the acquaintance of A Yappese man. His wife had gone to Ponape, seat of FSM government, to learn computer skills. He was working for my friend as A construction laborer, not being paid enough. He said it didn't matter, he didn't need the money. Turns out he's A village chief and, on Yap, he really doesn't!
Invited to Yap, I thought I'd take A look and see the stone money. I saw a whole lot more! The photo you see at the beginning of this compendium is just a sample of the scenic beauty of this untouched island group. Diving here is phenomenal. I dove in Mi'l channel with the Manta rays, you could've reached out & touched! (I didn't- they have A 16' wingspan!)
Yap still has its old Micronesian culture intact, many people still live as their ancestors did generations ago.Women wear grass skirts, nothing above the waist (that's like- topless!) men dress in parau or loincloth. Fish, taro, pigs are the diet. Cooking's done over open fire, homes are "grass shacks". It was A great experience. Leo offered the use of A nice stretch of waterfront and his peoples help to build me a house if I would stay. Sure was tempted! But obligations overruled desire and I had to come back. Now I understand the lure of "Paradise" If I wasn't in Hawaii, who knows, I might still be there. And, I just might go anyway!
I've since been back to Yap, and visited my friend. My wife accompanied me, so we stayed at the impressive, friendly Manta Ray Bay Hotel, guests of Bill Acker. His Yap Divers group took me to a number of unforgettable dive sites. At Mi'l channel, I saw 16 mantas at once! The hotel has all the comforts a traveler could ask for. You can see all of Colonia, the capital city, on foot. Hit the post office and get some colorful Micronesian stamps. Crafts are available at the hotel or the womens craft shop right next door. Saving up for another trip soon.