Stator Tips

The STATOR is an important part of the electrical system, both from an ignition and charging aspect. it can cause any number of problems including powerpack failures, dead batteries, intermittent and weak spark.

Typical stator: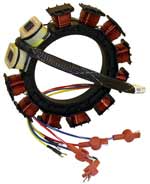 TROUBLESHOOTING TIP:
If you suspect the stator may be a cause of electrical problems, take a closer look. Is there any discoloration of the potting compound? Cracks? Drips hanging off? Pitchlike liquid leaking out and running down the block? If any of the above symptoms are evident, toss it: EVEN IF THE ELECTRICAL VALUES ARE CORRECT, it's toast.
Be sure that the rectifier or rectifier/regulator is in good order as well, if it's bad it could cause a repeat failure. Also be sure the battery terminals are CLEAN and TIGHT. Loose terminals kill stators fast. If you have wing nuts on the terminals, replace them with a couple of elastic self-locking nuts. Be sure to OPEN the terminal before you put it on the battery post, THEN tighten it until it's snug after it's all the way down. Pounding a closed terminal down on to the post will likely not stay on permanently, and may damage the battery post and/or the terminal.
For further troubleshooting tips visit CDI Electronics' TROUBLESHOOTING GUIDE



---